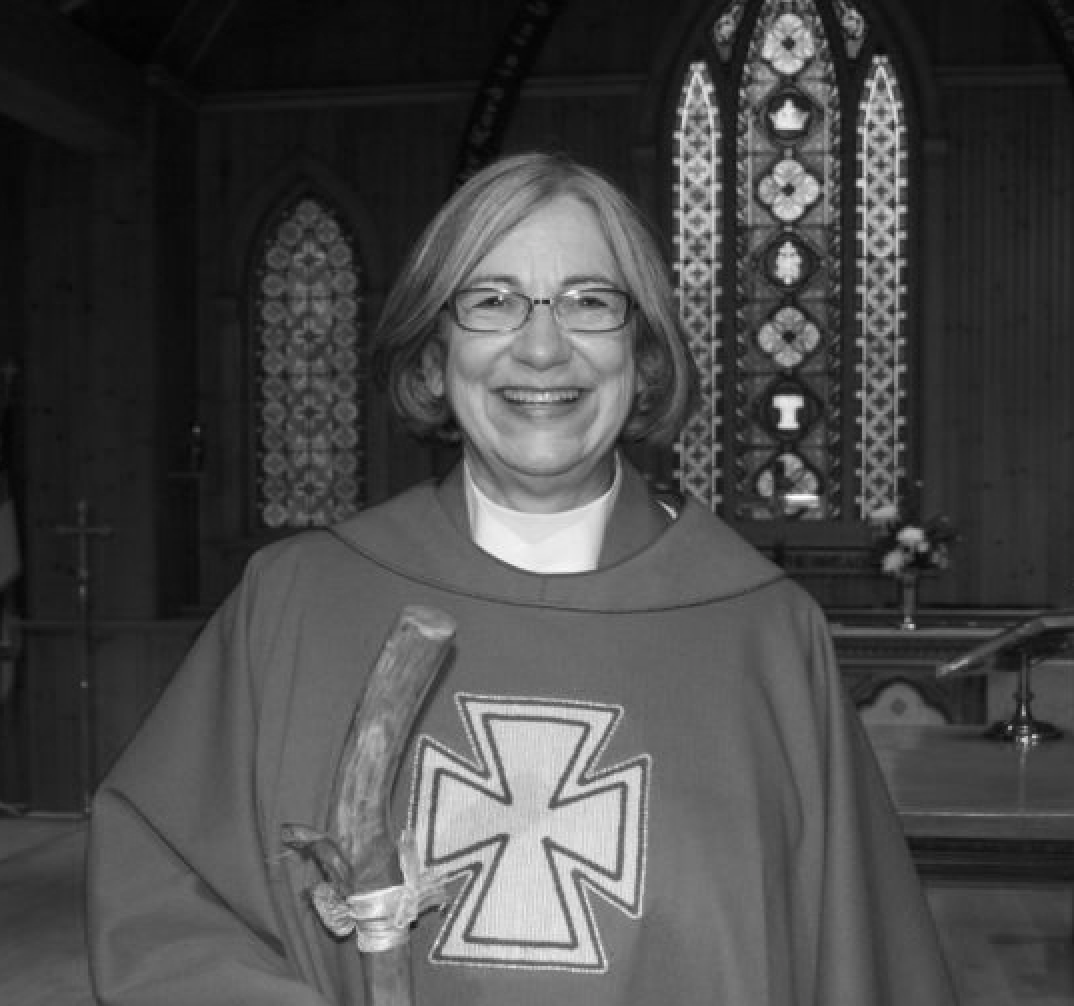 Rev. Kathryn Costas
Interim Rector
The Rev. J. Kathryn Costas began serving as Interim Rector of Grace Episcopal in Oct.  2017. Prior to her arrival at Grace, she served as Interim Rector at St. James Episcopal Church in Lenoir, NC.  Kathryn was ordained in the Diocese of Western North Carolina and is canonically resident in the Diocese of Indianapolis.
Kathryn has focused on intentional interim ministry, believing that it is important for churches to take the time to discern who they are and who God is calling them to be as they move into the process of calling a new rector. She enjoys working with congregations during this time of healing, change, and looking to the future. Before being ordained, Kathryn was a licensed clinical social worker in Asheville, NC, and co-owned a private group practice that served children, adults, and families.
She has two adult children and three grandchildren and enjoys reading, painting, walking on the beach, and hiking in the mountains. Kathryn looks forward to helping Grace through its transitional period.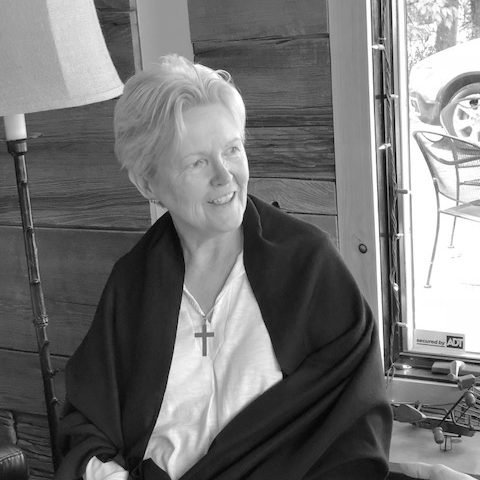 Rev. Anne Hallmark
Canon Missioner, Northern Region
Anne began as the Canon Missioner of the Northern Region in June 2018. She is part of our diocesan staff and will act as advocate and support to each parish in this northernmost part of the diocese. Anne is also providing consultation on our Discernment Team as we seek a permanent rector.
Anne is a seasoned  parish priest and interim pastor, having served over thirty years in congregations within the Dioceses of Virginia and Chicago. She brings extensive knowledge and experience in congregational leadership to our diocese, having been a proven leader and teacher in areas of organizational change, prayer practice, capital campaigns, and more. She earned her Masters in Divinity from Seabury Western Theological Seminary in 1987.
The vestry provides lay leadership of Grace Church by supporting clergy and staff, creating the mission and vision of the parish, and overseeing financial and property management. New members are elected each year at our annual meeting in January.
Guests are welcome to join our vestry meetings, typically held on the third Tuesday of each month in the parish hall. You may also submit agenda items in writing to vestry leadership. 
SENIOR WARDEN
Barb Dancer
Barb Dancer has been an active member in Grace Episcopal Church for over 10 years. Originally raised Roman Catholic, Barb has found depth and radical welcome in the Episcopal Church, and specifically at Grace. Barb has been married to John for 34 years and they have two grown boys, Evan and Drew. She has been with IBM and Lenovo for 35 years and now leads a team of Global Account Sales and Support members across 5 countries. Barb is excited to be in her second year on the vestry and first as Senior Warden. Her focus is on the future and is excited to welcome a new rector in the near term future. Barb loves sailing in the summer and skiing in the winter, and works from home with her dogs.

JUNIOR WARDEN
Elizabeth Black
My life in the Episcopal Church began in the Detroit area, as I was baptized as an infant at St. Thomas in Trenton. My parents migrated to Traverse City in the 1960's, and I have warm and happy memories of growing up here and at Grace Church. I have a fine art degree, but growing up at Grace and its traditions of outreach and service laid strong groundwork for my interest in serving others. I've spent time working with a variety of families and individuals in transition, from ESL education for immigrant children to grief counseling to suicide prevention education to homeless prevention and intervention for teens to foster care family reunification. I am a mother of two: Maggie, who is at Kalamazoo College, and Paul, who is a pharmacist and married to Mary. They are parents to my first grandchild, Eleanor Rose, who was born on Easter Sunday 2018!
KEEP
Kathryn Holl
I have always thought, if I were to write a memoir I would call it Nine Lives. I have anAS in Horticulture, undergraduate degrees in Spanish and Education. I have successfully managed an herb nursery (5,000 square feet of basil) in the Southwest, taught school in New York and now am a Grief Support Service Manager at Hospice of Michigan.

Born in Detroit with the good fortune of spending every summer on Torch Lake with extended family, my grandparents had a special place in my daily life teaching me gratitude, kindness and hard work!

I was baptized in the Methodist Church. A life time later I renewed a deep connection with the Christian Community in New York. It was there, as a single parent, I raised my son Sol and he was baptized. In 2008 Sol and I were confirmed in the Episcopal faith. Sol, his wife Erin and my beloved granddaughter Ellamay live in Tampa, Florida where they are members of
St. John's Episcopal Church.
CLERK
James Deaton
Although I am new to the Episcopal Church, being part of an open-minded, Spirit-filled Christian community has always been important to me. I found that in Grace when my husband, Jason, and I moved to this area in 2011. Professionally, I'm the managing editor of a small Christian publishing company. It's rewarding to work on creative projects and see them come to life. In my free time, I am a volunteer DJ at WNMC, a college radio station here in Traverse City. I love curating Americana music, whether it's bluegrass, folk, country-rock, blues, or gospel.
MEMBER, Discernment Team liaison
Jeff Wescott
Grace Church welcomed my wife, our two babies, and me in 1997, one of the most challenging for us as we moved from Boston and family to a whole new life.  I am now serving on my second Grace Vestry because I want to put my talents into healing the parish from past wounds and guiding it forward to a new Rector.  With a rich history behind us, our best days are before us, and I think this is a very exciting time to be a part of Grace Church as we grow in the Holy Spirit.  Fun Fact: my first real job was on a tobacco plantation–in Connecticut.
MEMBER, Finance Committee liaison, Website & Communications
Kelly Ignace
While I have been an Episcopalian since age 4, I weaved in and out of the Church over the years, but first came to Grace in 1995. I'm a proud mama of two college age daughters. Through various interests, I've been highly involved in the TC community over the past 15 years. My career has had many incarnations, but the last 5 years have been spent as an independent contractor for marketing and business development projects. I love Traverse City, and I love the nuts who live here. I have a sense of humor. I believe in radical welcome.
MEMBER, Jubilee Ministries liaison
Glen MacPherson
US Public Health Service Commissioned Corps officer (Commander), assigned as Coast Guard flight surgeon 2010-present, with assignment in Traverse City 2015-2021. Raised Congregational/UCC, nearly converted to Catholicism in College but abandoned RCIA due to difficulties with teaching of contraception within marriage. Embraced Episcopal Church shortly afterward. Father of 5, ages 15, 14, 11, 11, 11. Happily married to first wife and high school best friend, Tracie, for 19 years, who volunteers in the church office and food pantry. Dartmouth undergrad, Peace Corps Volunteer in Malawi 1993-1995, pre-med at Bryn Mawr, Washington University in St. Louis Med School, Air Force flight surgeon 2001-2010, Johns Hopkins MPH 2007. Iraq deployment 2007 and 2008. Board member American Red Cross, Northern Michigan. Munson Urgent Care weekend physician. Rector Search Committee member 2017. Intent listener and synthesizer of perspectives. Interested in worship, outreach, and youth. Brings to the Vestry the perspective of a working professional father of a young family.

MEMBER, Childen & Youth Council liaison
Elizabeth Blondia
Elizabeth Blondia is an English and history teacher and department head at a boarding high school for student with learning differences. She, her husband and two teenage children have been active at Grace Church for 13 years and love that Grace and the larger Episcopal Church place priority on outreach and social justice. Because her younger years were spent in the service industry, she is an above average tipper.
MEMBER, Pastoral Care liaison
Tim Sinclair
My name is Tim Sinclair. My wife Marva, her mother Mickie and I have been coming to Grace since moving to Traverse City in August, 2016. Prior to moving, I served at St. Michaels Episcopal church as an acolyte, usher, Eucharistic minister and two terms as a vestry member. I am a practicing attorney and real estate broker specializing in commercial properties.

At Grace I am a Eucharistic minister and member of the ad hoc Pastoral committee.
As we proceed, I see the immediate challenge of finding consensus and agreement on Grace's future role and finding a permanent rector to lead and serve to grow our church family.
MEMBER, Grace Foundation liaison
Jessica Rickard
Originally from Seattle, Jessica has lived in Traverse City since 1993 and been a member of Grace Episcopal Church since 1990. Jessica has been involved with Grace in a number of ways: Lector, Building Committee Member, Search Committee Member, and Vestry Member. Jessica's goal as a returning Vestry Member is to invest more of her time and energy in her second family—Grace Church.
Professionally, Jessica is a lawyer providing title examination searches at Northern Title Agency, Inc.
MEMBER, Communications liaison
Matt Roney
Matt Roney is a marketing and communications professional in Traverse City. Though he grew up in Northern Michigan, he spent more than a decade away; it was during a five-year stint in Seattle that he fell in love with—and was received into—the Episcopal Church. A member of the Grace choir, he joined the Vestry in 2019, and feels deeply privileged to help guide the direction of his spiritual home.
Matt is very passionate about music and the arts, coffee, and social justice. He supports the Seattle Sounders FC and buys entirely too many Kindle books.
MEMBER, Jubilee Ministries liaison
Mike Cotter
Mike Cotter is a working artist born in Evanston, Illinois. He previously owned a corporate travel agency in Chicago for twenty years. In the remaining ten years of his business career, Mike served as the Director of Operations for The True Value Hardware Company. Shortly after retiring from the business world, Mike moved to Traverse City with his wife Irene (also an artist) and their son Will. Although they lived in the Chicago area for most of their lives, Mike and Irene were excited to make the transition to Traverse City and once more engage in creating their artwork and to be part of a community where the arts play a key role.
From their very first visit to Grace Church ten years ago, Mike and Irene were warmly welcomed and knew they had found their spiritual home. Learning about the extensive outreach ministries that are integral to Grace, as well as its open table to which all are welcome they were thankful to become members of a church that made helping and inclusiveness a major priority of parish life. At Grace Church Mike previously served as the coordinator for the Buildings and Grounds Committee for three years and volunteers in the parish office every Thursday afternoon. Outside of Grace, Mike volunteers as a docent at the Dennos Museum and delivers Meals on Wheels once a week.
By being called to serve on the Vestry for a one-year term, Mike hopes to combine the creative solutions he has learned as an artist along with his corporate managerial and logistical skills to help Grace Church continue to grow as the exceptional faith community it truly is.